GOLF GPS BOOSTER
Designed for use with SkyCaddie Mobile Premium GPS app
Up to 300% more accurate than a smartphone app alone
Replaces your phone's "Location Services" for better accuracy and battery life
Includes 1-Year SkyGolf 360 Plan
GOLF'S MOST POWERFUL GPS BOOSTER WITH GOLF'S MOST ACCURATE RANGEFINDER APP
The SkyGolf GT1™ replaces your smartphone's Location Services with its powerful GPS engine to provide golfers with distances they can trust and conserves battery, too! The GTI works with our SkyCaddie Mobile™ GPS App, which is powered by the same ground-verified and error-corrected TrueGround® course maps that make SkyCaddie the #1 rated and most trusted rangefinder in golf!
---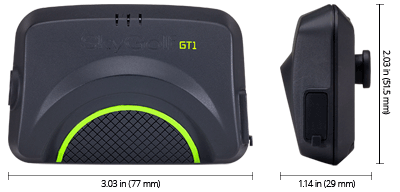 Increases accuracy up to 300%
Only the SkyGolf GT1™ replaces your smartphone's location services with its powerful GPS engine and antenna to provide golfers with distances they can trust. Accuracy is also enhanced by the same ground-verified, TrueGround® course maps that make SkyCaddie the #1 rated and most trusted rangefinder in golf!
The SkyCaddie Mobile App Delivers Stunning Views
On Your Smartphone... And Accuracy, Too!
The SkyCaddie® Mobile™ app uses the powerful GPS engine of the GT1 GPS Booster instead of your smartphone's Location Services to provide distances you can trust... and conserves your smartphone's battery too! So when you need more information or a better view of what's ahead, the app delivers the entire hole in stunning HD graphics with the accuracy of a SkyCaddie.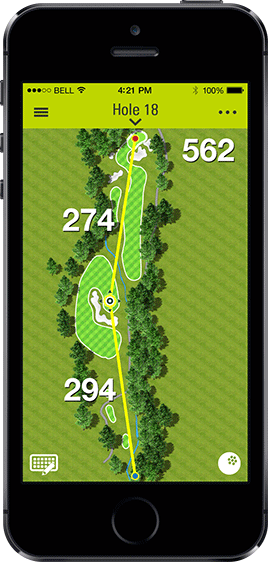 TrueGround Course Maps*
Only SkyGolf walks every course with professional survey-grade equipment to create the most-complete, most-reliable and most-precise course maps in the game.

Interactive HoleVue in Vivid HD*
Play faster with an eagles's eye view of the entire hole. With a simple TAP on the screen, measure to any point on the hole and get the critical information you need to layup in front of, or carry, hazards.

Integrated Targets*
Up to 40 geo-referenced targets per hole are integrated within HoleVue. Simply pinch and zoom HoleVue to seamlessly reveal the critical distances to all hazards, carries and layups — not just a few calculated layup yardages provided in other apps... all without changing screens to a list of targets that are hard to understand.

Detailed Green Information*
View the exact shape of the green and get distances to the Front, Center and Back from anywhere on the course.

Advanced Scoring & Stat Tracking*
Track your game like a Pro with Advanced Stats including Scoring Average, Fairway Percentage, Greens in Regulation Percentage, Putting Average, Scrambling Percentage, Driving Distance, Sand Saves Percentage, Number of Chips, 3-Putt Avoidance, Bounce Back Percentage, plus more!
---
Download SkyCaddie Mobile
Please click one of the buttons below to go to the Apple App Store (iOS) or Google Play Store (Android) to download the SkyCaddie Mobile app to your smartphone. To unlock SkyCaddie Mobile's Premium features, so you will need to have a SkyGolf 360 Premium, SkyGolf 360 Premium Plus, or Double Eagle membership plan.
* Requires SkyCaddie Mobile Premium, available through SkyGolf 360 Premium, SkyGolf 360 Premium Plus, and Double Eagle membership plans.

CONNECTING YOU TO EVERY ASPECT OF YOUR GAME
The SkyGolf 360 Cloud brings everything golf-related together in one place. It is an web-based suite that provides a central place for golfers to collect, analyze, track and share their rounds and performance data. With a nominally-priced annual plan, you can upload scorecard, swing and launch data to your My 360 personal performance locker within the SkyGolf 360 Cloud. Then review and analyze your performance using any mobile or desktop device, wirelessly!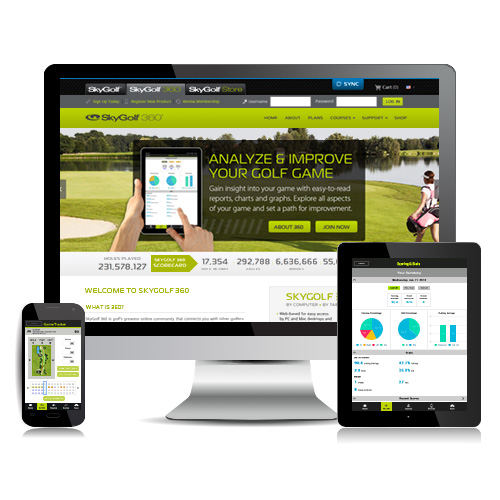 SKYGOLF 360 FEATURES
CONNECT WITH GOLFERS

Make new friends, create groups, discuss golf tips, equipment and achievements

TRACK YOUR SCORES

Upload your scores from your SkyCaddie, or enter your scorecards manually, online

REAL-TIME STATISTICS

Get real-time stats, reports, and charts to gain insight on fairways hit, GIRs and more!

EXPLORE COURSES

View details on over 35,000 golf courses worldwide, plus scorecards and reviews

COURSE MAPS

Download highly accurate, TrueGround® Course Maps to your SkyCaddie

PERSONAL GOLF CLOUD

Store your game data and access it anytime and anywhere in the SkyGolf 360 Cloud

MEMBER BENEFITS

Access exclusive, Member-Only offers and products online

SHARE YOUR GAME

Share your progress with your friends, family and your golf instructor

FOLLOW A FRIEND

Add a friend to your profile to view their scores, stats, favorite courses and live rounds

FORM A GROUP

Create and manage a group for your foursome, golf league or other team

MANAGE YOUR BAG

Manage and review the golf equipment you own and use

TOURNAMENTS

View or announce golf tournaments near you with the community

MANAGE YOUR ACCOUNT

Activate, transfer, upgrade and renew plans, as well as manage your device data

BOOK TEE TIMES

Reserve a tee time at participating public and private golf courses

CELEBRATE SUCCESSES

Announce your achievements such as a hole in one, breaking 80, or create your award!

DOWNLOAD UPDATES

Easily download available course and software updates for your devices
---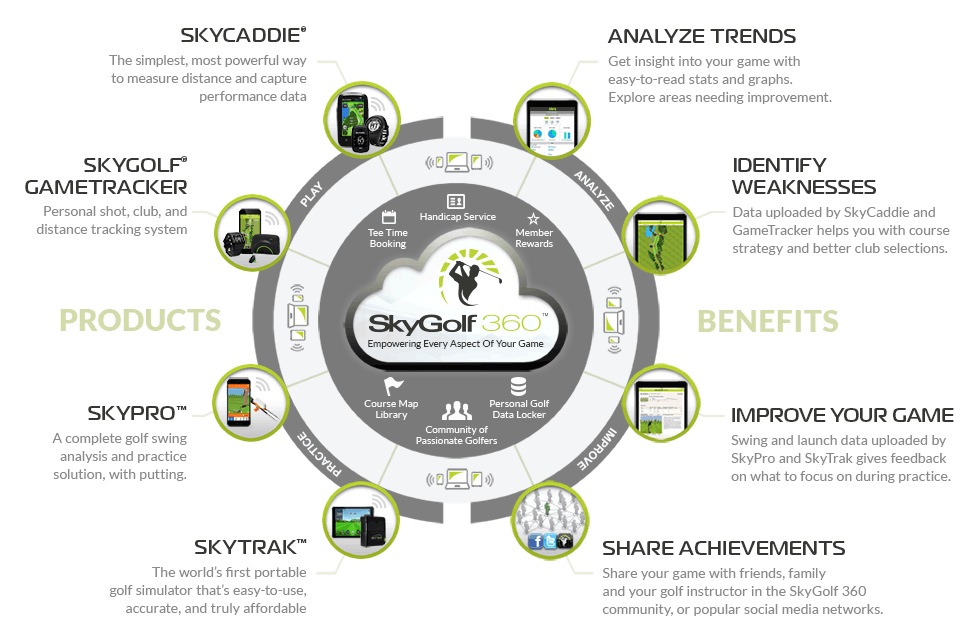 What's Included
SkyGolf GT1 wearable GPS booster
SkyCaddie Mobile for iOS GPS rangefinder app (must be downloaded from the App Store)
1-Year SkyGolf 360 Premium membership plan with online GameTracker dashboard
Belt clip and micro USB charging cable
---
SkyCaddie Mobile App Requirements*
iPhone® 5 and above
iOS 7.0 or higher
* Compatibility with Android devices may vary.


---
SkyGolf GT1 Specifications
3.03" wide x 1.14" deep x 2.03" high | 77mm x 29mm x 51.5mm
Rugged, impact-resistant plastic casing with IPX6 rating. Water resistant (e.g. rain). USB cover and sealed power switch.
Bluetooth® Smart Ready. Use of Bluetooth Low Energy conserves power consumption while maintaining reliable communication with smartphones
Hybrid GPS/SBAS 50-channel GPS engine. Uses signals from WAAS, EGNOS, MSAS in addition to GPS
High-performance, helix GPS antenna, designed to maintain optimal signal performance in close proximity to the human body
Rechargeable Lithium Polymer (LiPo) battery rated to last up to 12 hours of play/standby per charge
Includes USB charging cable
Protect Your SkyCaddie Purchase
6-Month Consumer Limited Warranty
Each new SkyCaddie product purchased in the U.S. comes with a 6-month Consumer Limited Warranty.
---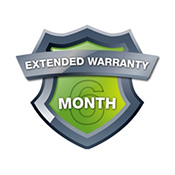 Upgrade to a 12-Month SkyCaddie Extended Warranty
The SkyGolf Extended Warranty extends the standard 6-month consumer limited warranty to a 12-month warranty against defects in materials and workmanship. Only new SkyCaddie products registered with SkyGolf within 30 days of a U.S. purchase are eligible.
See terms and conditions.