ANALYZE & IMPROVE YOUR GAME
Designed to work with SkyCaddie, GameTracker, SkyPro and SkyTrak products
Upload scores, track shots, and connect with other golfers
Gain insight with advanced scoring and stats
Manage your account: active, transfer, upgrade and renew plans
Book tee times at participating public and private golf courses
Download our FREE SkyGolf 360 mobile app for access anywhere
SKYGOLF 360 OVERVIEW
SkyGolf 360 is golf's greatest online community that connects you with other golfers, tracks all aspects of your game, and provides statistical analysis of your rounds to help you improve. SkyGolf products communicate seamlessly with the SkyGolf 360 Cloud to store your game data and help you enjoy better golf through better information. Sign-up for SkyGolf 360 today and begin to enjoy all of the benefits membership has to offer.
SKYGOLF 360 FEATURES
CONNECT WITH GOLFERS

Make new friends, create groups, discuss golf tips, equipment and achievements

TRACK YOUR SCORES

Upload your scores from your SkyCaddie, or enter your scorecards manually, online

REAL-TIME STATISTICS

Get real-time stats, reports, and charts to gain insight on fairways hit, GIRs and more!

EXPLORE COURSES

View details on over 35,000 golf courses worldwide, plus scorecards and reviews

COURSE MAPS

Download highly accurate, TrueGround® Course Maps to your SkyCaddie

PERSONAL GOLF CLOUD

Store your game data and access it anytime and anywhere in the SkyGolf 360 Cloud

MEMBER BENEFITS

Access exclusive, Member-Only offers and products online

SHARE YOUR GAME

Share your progress with your friends, family and your golf instructor

FOLLOW A FRIEND

Add a friend to your profile to view their scores, stats, favorite courses and live rounds

FORM A GROUP

Create and manage a group for your foursome, golf league or other team

MANAGE YOUR BAG

Manage and review the golf equipment you own and use

TOURNAMENTS

View or announce golf tournaments near you with the community

MANAGE YOUR ACCOUNT

Activate, transfer, upgrade and renew plans, as well as manage your device data

BOOK TEE TIMES

Reserve a tee time at participating public and private golf courses

CELEBRATE SUCCESSES

Announce your achievements such as a hole in one, breaking 80, or create your award!

DOWNLOAD UPDATES

Easily download available course and software updates for your devices
SkyGolf 360 Connects You To Every Aspect Of Your Game
At the center of all SkyGolf products is SkyGolf 360, an online suite that provides a central place for golfers to collect, analyze, track and share their game data. Upload your scorecard, swing and launch data to your My 360 personal performance locker within the SkyGolf 360 Cloud. Then review and analyze your performance using any mobile or desktop device, wirelessly!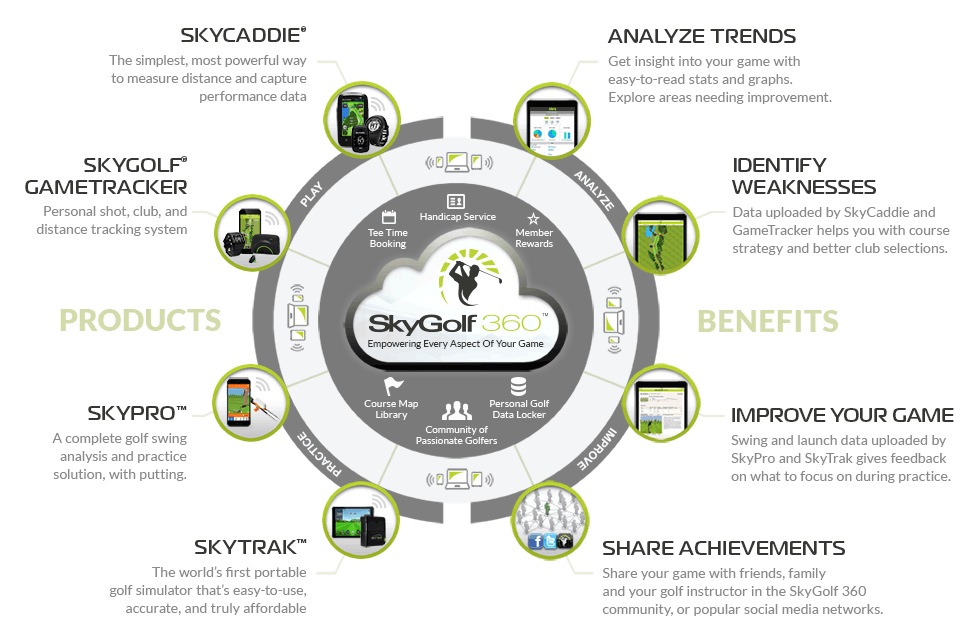 ---
With a membership plan, SkyGolf 360 can help you:
Gain insight with advanced scoring and stats: fairways hit, GIRs, putts per round/hole, and more!
Identify your game's strengths and weaknesses using post-round game analysis tools
Manage your account: Activate, transfer, upgrade and renew memberships
Access and redeem your member benefits
Search and manage TrueGround Course maps for your SkyCaddie rangefinder
Share scores, stats and chat with friends on the news feed
Book tee times at participating public and private golf courses
---
Comprehensive and flexible stat tracking
Designed to be fun and flexible, SkyGolf 360 lets you track as many or as few stats as you want – over 50 stats in all! That's more than four times the stats offered by the competition. All data from SkyCaddie Mobile is automatically sent to the SkyGolf 360™ Cloud, where simple, easy-to-understand charts and graphs help identify strengths and weaknesses in your game.
---
Share your round in real-time with live scoring
Automatically share your round in real-time with friends, family, coaches or your golf instructor. The scores you capture on-course are automatically sent to the SkyGolf 360™ Cloud so your friends can follow your round from the first tee to the 18th green.
SkyGolf 360 Plans
SkyGolf 360
Premium
Worldwide
Basic Green Maps (Front/Center/Back)
GOLF Magazine (12 issues)
Access to SkyGolf 360™ Cloud
SkyGolf 360 Mobile App
SkyCaddie® Mobile™ GPS App
SkyGolf 360
Premium Plus
Worldwide
Access to Worldwide Course Maps
Basic Green Maps (Front/Center/Back)
GOLF Magazine (12 issues)
Access to SkyGolf 360™ Cloud
SkyGolf 360 Mobile App
SkyCaddie® Mobile™ GPS App
Boxgroove Private Course Play
Golf Pipeline Public Tee Time Booking
SkyGolf 360
Basic
Worldwide
Basic Green Maps (Front/Center/Back)
GOLF Magazine (12 issues)
Access to SkyGolf 360™ Cloud
NO ANNUAL FEES REQUIRED
Use preloaded Basic Green Maps for the life of the SkyCaddie*
*Must be renewed every 3 Years at www.skycaddie.com/renew
Minimum Requirements FOR SKYGOLF 360 MOBILE APP
Eligible annual SkyGolf Membership plan*
SkyGolf 360 app on a smartphone with iOS 7 OR Android® 4.4 or higher**
Download SkyCaddie 360 app free from the App Store or Google Play Store

* See "Memberships" at shop.skygolf.com for options and pricing vary
** Compatibility with some Android smartphones may vary