GOLF'S PREMIER HANDHELD
Bluetooth

®

convenience makes preloaded maps a thing of the past!
Large, glove-friendly touchscreen makes navigation a snap
Get an eagle's view of the hole with vivid high definition graphics
Powered by SkyGolf's ground-verified maps for unmatched accuracy
$299.95
Promotional Pack w/1 Year Double Eagle pre-paid membership card
Add to Cart
Promotional pack includes:
SkyCaddie TOUCH GPS Rangefinder
Reachargeable lithium-ion polymer battery
USB cable
Heavy-duty belt clip
User documentation
Includes 1 year Double Eagle prepaid membership card
TOUCHSCREEN • UNMATCHED ACCURACY • PRELOADED
The SkyCaddie TOUCH, the flagship of SkyCaddie's new product lineup, features a glove-friendly, easy-to-use touchscreen with Bluetooth connectivity to provide golfers with the ultimate user experience and convenience when coupled with a FREE mobile app. The TOUCH features a hi-resolution, sunlight-readable, color display that amplifies the clear superiority of SkyCaddie's 35,000 preloaded, high-definition maps over its competition.

Don't compromise your game. Play with the most-trusted rangefinder in golf and start saving strokes. Nothing Else Comes Close!®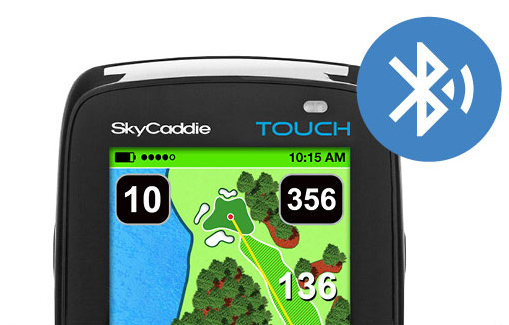 Enjoy Wireless Connectivity Wherever There is Mobile Phone Coverage
Simply connect to your mobile device with our FREE SkyGolf 360 app for fast, easy downloads of the most reliable course maps in golf. After your round, upload your scores instantly to the SkyGolf Cloud for analysis of your game, all without cables or computers.
A Simple Turn of the Wrist
The SkyCaddie Touch features SkyGolf's AutoView technology. AutoView enables you to change between the SkyCaddie's most popular screens: HoleVue, IntelliGreen and the Scorecard with just a simple turn of the wrist. Turn the Touch to the right to see SkyCaddie's patented IntelliGreen with invaluable approach shot information in large clear numbers. Turn the Touch to the left and you'll instantly see the Digital Scorecard.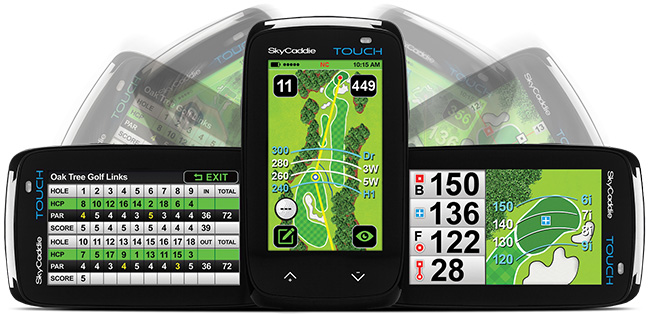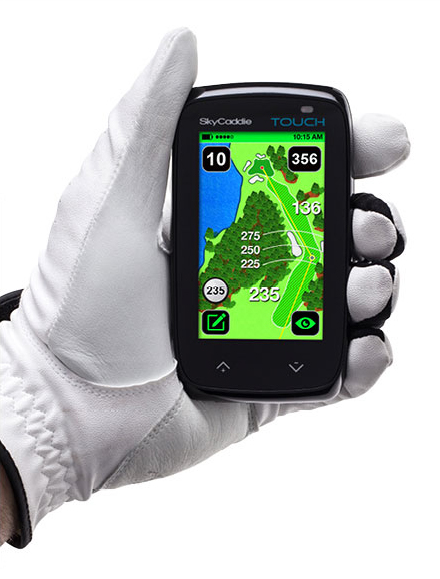 A Virtual Hands-Free Experience
INTELLIGENT AUTOMATION provides an almost touchless and buttonless experience from the parking lot to the 19th hole. Whether you prefer only basic distance information or want everything the SkyCaddie® has to offer, simple on-off settings allow you to have it your way. Intelligent automation makes sure critical DISTANCE information is ready before you need it.
Auto Course Selection

finds and loads your course

Auto Hole Selection

advances to the next hole before you get there

Auto Zoom

advances to the best view of the hole as you proceed from tee to green

Auto Distance

updates every second from your location

Auto Green Depth

from any angle of approach
The SkyCaddie Touch Makes Other
Preloaded Rangefinders Obsolete
Golf GPS products with preloaded course maps are outdated before you buy them. With its new Bluetooth wireless capabilities, the SkyCaddie® TOUCH provides easy access to the most reliable, most accurate, and up-to-date course maps in the game without a hooking up a cable to your computer.  Just use your mobile device with our new, FREE SkyGolf 360 app to keep your favorite course up-to-date with ease while enjoying the convenience of over 35,000 courses preloaded and ready to play.
SkyCaddie TOUCH Features
Interactive HoleVue in Vivid HD

With Interactive HoleVue with Zoom, you'll know the distance to any point on a hole in order to play that hole with the fewest strokes. Need a close-up view to strategize your next shot? HoleVue includes a patented zoom function to dial into the exact area you need to see.*

Dynamic RangeVue

Multiple yardage arcs overlay fairway landing areas and greens to allow you to select the best club for every shot much more quickly. Use RangeVue™ to get the distances you need to start playing smarter and faster from tee to green.*

IntelliGreen Technology

With SkyCaddie's patented IntelliGreen® technology, the exact shape of the green automatically rotates to match your angle of approach to provide all of the distances you need to hit more greens and avoid 3-putts. This proprietary feature gives you a chance to turn every shot into a scoring opportunity by providing front carry and back distances, depth of green, and distances to any other point on the green — simultaneously.*
---
More Features To Improve Your Game And Have More Fun
Unlimited access to SkyGolf's 35,000+ error-corrected, worldwide course maps, including 'OnDemand' HD course downloads and updates
Digital scorecard and statistical tracking
Measure  the distance you hit any shot and learn your club distances
40,000 preload course capacity

* After 30 days, preloaded courses information, as well as advanced green and course features require one of several nominally-priced membership plans.


Tour Series Plans
Eagle
Nationwide
Starting at
SAVE $20
with a
3 YEAR MEMBERSHIP
Access to Nationwide Course Maps
GOLF Magazine (12 issues)
Access to SkyGolf 360™ Cloud
SkyGolf 360 Mobile App
SkyCaddie Mobile (Scoring Only)*
Boxgroove Private Course Play
Golf Pipeline Public Tee Time Booking
Double Eagle
Worldwide
Starting at
SAVE $80
with a
3 YEAR MEMBERSHIP
Access to Worldwide Course Maps
Family 3-and-1 feature
GOLF Magazine (12 issues)
Access to SkyGolf 360™ Cloud
SkyGolf 360 Mobile App
SkyCaddie® Mobile™ Premium App
Boxgroove Private Course Play
Golf Pipeline Public Tee Time Booking

Add 1 dozen Bridgestone e6 Balls FREE (a $28 value!)

Add 3 dozen Bridgestone e6 Balls for $50 more(+S&H)
(Save $30)
Access to Statewide Course Maps
GOLF Magazine (12 issues)
Access to SkyGolf 360™ Cloud
SkyGolf 360 Mobile App
SkyCaddie Mobile (Scoring Only)*
Boxgroove Private Course Play
Golf Pipeline Public Tee Time Booking

CONNECTING YOU TO EVERY ASPECT OF YOUR GAME
The SkyGolf 360 Cloud brings everything golf-related together in one place. It is an web-based suite that provides a central place for golfers to collect, analyze, track and share their rounds and performance data. With a nominally-priced annual plan, you can upload scorecard, swing and launch data to your My 360 personal performance locker within the SkyGolf 360 Cloud. Then review and analyze your performance using any mobile or desktop device, wirelessly!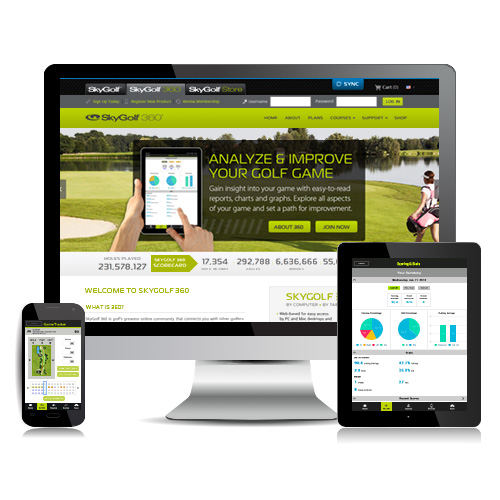 SKYGOLF 360 FEATURES
CONNECT WITH GOLFERS

Make new friends, create groups, discuss golf tips, equipment and achievements

TRACK YOUR SCORES

Upload your scores from your SkyCaddie, or enter your scorecards manually, online

REAL-TIME STATISTICS

Get real-time stats, reports, and charts to gain insight on fairways hit, GIRs and more!

EXPLORE COURSES

View details on over 35,000 golf courses worldwide, plus scorecards and reviews

COURSE MAPS

Download highly accurate, TrueGround® Course Maps to your SkyCaddie

PERSONAL GOLF CLOUD

Store your game data and access it anytime and anywhere in the SkyGolf 360 Cloud

MEMBER BENEFITS

Access exclusive, Member-Only offers and products online

SHARE YOUR GAME

Share your progress with your friends, family and your golf instructor

FOLLOW A FRIEND

Add a friend to your profile to view their scores, stats, favorite courses and live rounds

FORM A GROUP

Create and manage a group for your foursome, golf league or other team

MANAGE YOUR BAG

Manage and review the golf equipment you own and use

TOURNAMENTS

View or announce golf tournaments near you with the community

MANAGE YOUR ACCOUNT

Activate, transfer, upgrade and renew plans, as well as manage your device data

BOOK TEE TIMES

Reserve a tee time at participating public and private golf courses

CELEBRATE SUCCESSES

Announce your achievements such as a hole in one, breaking 80, or create your award!

DOWNLOAD UPDATES

Easily download available course and software updates for your devices
---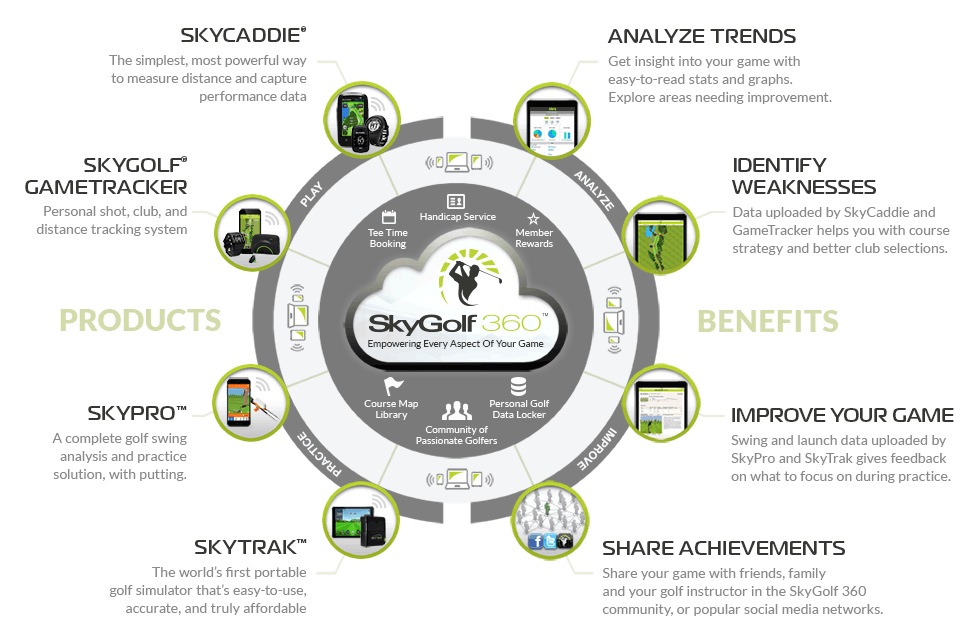 Unmatched accuracy begins with high-precision,
ground-corrected course maps...
Only from SkyCaddie!

No Tour Player uses yardage books derived from satellite images or flyovers. Neither should you. Other GPS rangefinders use second and third generation maps derived from third-party aerial imagery known to contain errors, such as: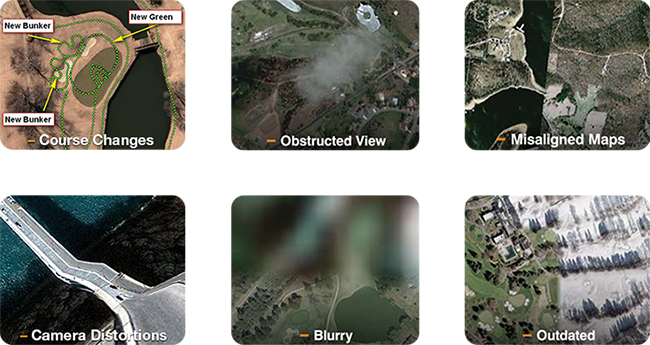 SkyCaddie takes no such shortcuts when it comes to your game.

ONLY SkyCaddie sends professional mappers to walk EVERY golf course with professional-grade survey equipment to create original course maps, accurate within 1 yard. Each mapper has been trained using curriculum created by Mark Long, one of two yardage book authors in the world that produces yardage books for the PGA TOUR. The result is that SkyCaddie has walked over 100,000 miles to provide the most complete, most reliable and most precise course maps in the game.

Get instant yardages quickly and easily without aiming a laser, overshooting the pin or guessing. The SkyCaddie Touch will give you yardages to the green... even if you can't see it! Try doing that with a laser rangefinder!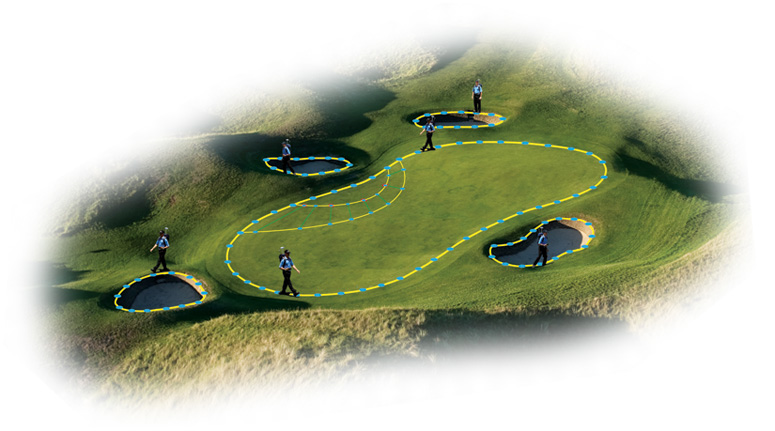 TOUR PLAYERS TRUST THEIR CADDIE
YOU CAN TRUST YOUR SKYCADDIE
Technical Specifications
Size:

4" H x 2.3" W x 0.7" D (10.1cm x 5.8cm x 1.7cm)

Weight:

3.8oz (109.5g)

Display:

3-inch (7.6 cm) TFT-LCD color, touch-enabled, 240 x 400 resolution, backlit

Battery:

Rechargeable, lithium-ion polymer (Lasts up to 12-14 hours of continuous play)

Water Resistant:

IPX 7 Rating

Languages:

English, Chinese, French, German, Japanese, Spanish, Swedish
---
Package Includes
SkyCaddie Touch GPS Rangefinder
USB to micro-USB Cable
Heavy-duty belt clip
User documentation
Protect Your SkyCaddie Purchase
6-Month Consumer Limited Warranty
Each new SkyCaddie product purchased in the U.S. comes with a 6-month Consumer Limited Warranty.
---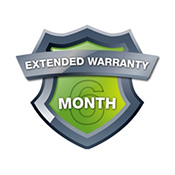 Upgrade to a 12-Month SkyCaddie Extended Warranty
The SkyGolf Extended Warranty extends the standard 6-month consumer limited warranty to a 12-month warranty against defects in materials and workmanship. Only new SkyCaddie products registered with SkyGolf within 30 days of a U.S. purchase are eligible.
See terms and conditions.